CITROËN New C3 Aircross Flair BlueHDi 100 review – Part 1
Read time: 3 minutes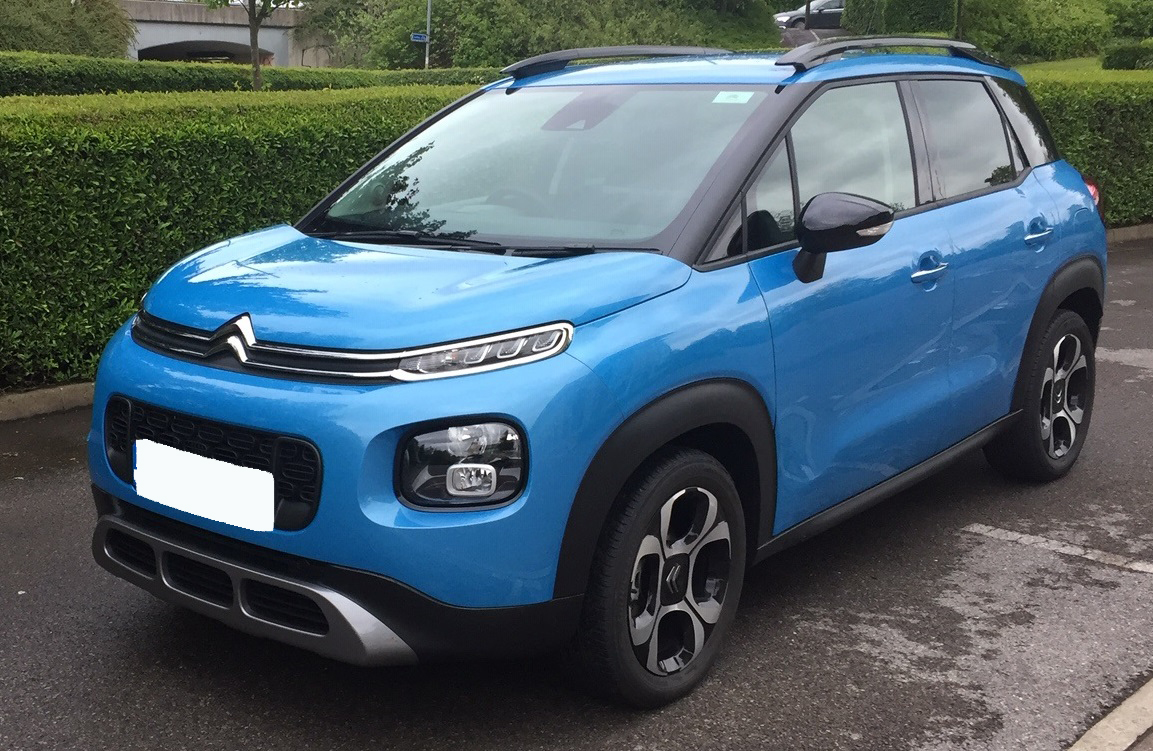 The Citroen C3 Aircross in Breathing Blue caused a lot of interest when it arrived; a few people were wondering what vehicle it was and immediately wanted to sit in it. This model was the 1.5 diesel 100ps. We've previously tested the PSA 1.2 petrol in various states of tune and wanted to see how living with the latest diesel would be, especially in real world economy figures. Again we chose the mid-spec model which had all the bells and whistles we feel an instructor would need.

Well, we know it's been said before but this car really is like a tardis! It's huge inside but the exterior dimensions are similar to other vehicles in its class. Our test team all praised the huge front seats which felt like armchairs, they are so incredibly comfy and wide. This surely will be a positive for any instructor who will spend many an hour in the car.
There's plenty of room in the passenger footwell and large storage in the doors for odds and ends – it's things like this which make the Citroen C3 so easy to live with. Citroen offer a 'My Citroen' app which once downloaded to your phone can track your fuel economy and provide links for easily updating mapping on the cars dash-mounted touchscreen. The Sat Nav is easy to use and, along with the rest of the dashboard, feels sturdy. There's a digital speedo readout on the instrument binnacle alongside the standard speedo so the speed is clearly visible from the front passenger seat.

As the car is quite boxy it's also easy to manoeuvre and park, visibility is pretty good and the wing mirrors provide plenty of view for both driver and passenger. There's loads of room in the boot too; we loaded the vehicle for an airport run with 3 cases and other bits of luggage and it all fitted in with room to spare. This is definitely a car which can be used for teaching as well as personal/family use. The car has the ubiquitous SUV look but the black cladding over the wheel arches and around the bumpers really suits the car and almost gives it the 'off road' look, along with the skid plates and roof bars. We were also pleased that, although the car had slightly larger alloys, this didn't affect the ride or handling of the vehicle. After all, this is not a car for fast cornering but one which needs to be comfortable for everyday use.

So what was the Citroen C3 like to drive? Firing up from cold there's no mistaking it's diesel! However once warmed up the engine was pretty quiet and pulled well in all gears, given that our car had only a few hundred miles on the clock then we'd expect it to loosen up further and only improve. The car was able to drive at a steady 25-28mph happily in 4th gear and, even though we tried a few times, was almost impossible to stall.
Anyway this car isn't about top speed and acceleration, we were more interested in what the claimed vs real world fuel economy was. Over a mix of all different roads and with a couple of different drivers we managed a credible 48mpg. Given that took in a fair bit of urban driving then this is a strong result.

Dualdrive already have a number of the latest generation C3 hatchbacks on fleet and the C3 Aircross will definitely appeal to those who want something slightly larger.