Dualdrive Car Review – Kia Rio '3' 1.0T GDI
Read time: 5 minutes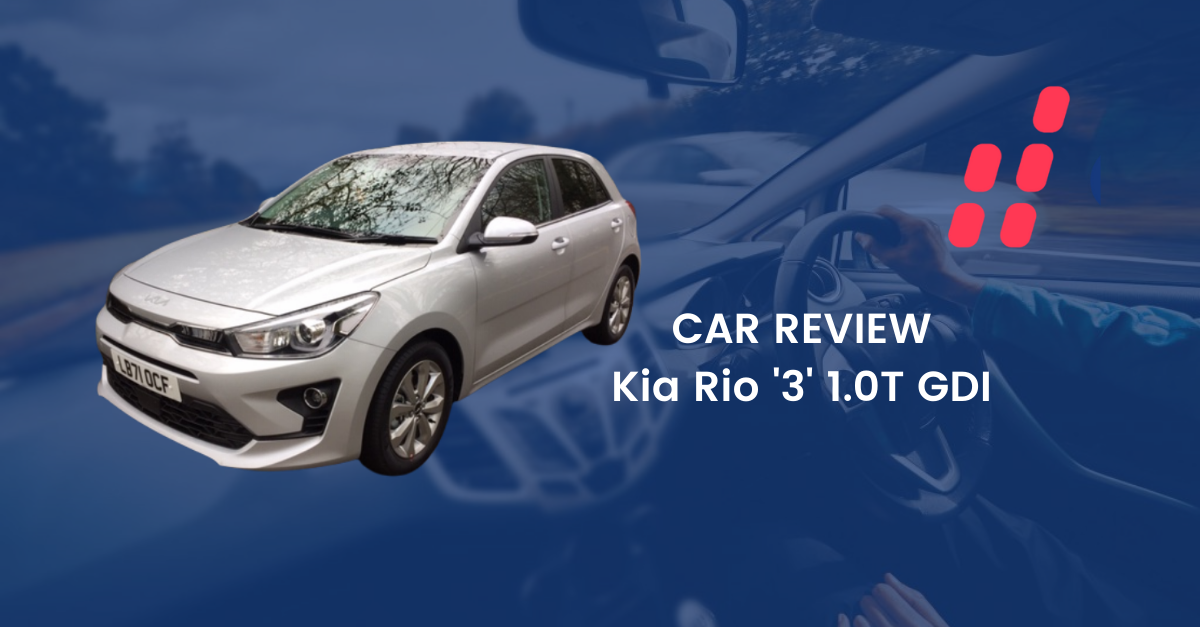 Our most recent review is the Kia Rio. 'The Kia what?' I hear you say. Well the Rio has been part of the Kia line up for over 20 years and has always just gone about its business pretty much unnoticed. We've always been fans of the Rio and ran a number of 3 cylinder 1.1 diesels back in 2014. Rapid they weren't, reliable they were! Keen to see how things have progressed we got our hands on the 1.0T petrol turbo in '3' specification. Looks wise, this car has the latest Kia designs and new badging for 2022, it looks sharp and definitely bang upto date.
So what's it like inside?
Well getting comfy isn't a problem, the seat has plenty of adjustment and the cabin is bright and airy with slim A pillars. Over the shoulder vision from the rear C Pillars is on par with pretty much other cars the Rio is up against, luckily there is a rear view camera on the '2' spec and above along with sensors to help. Plenty of storage for Instructors in the passenger seat and the Touchscreen is located high up and thankfully is intuitive to use and doesn't omit glare, it's easy to operate the Apple CarPlay and Android too. Quality of the materials is durable and everything feels like it'll last, it's not posh but it's modern and the controls fall to hand. There's also plenty of room in the back, it's not often that a car of this size will be required to carry 4-5 adults at once but, should the need arise, no worries! Same for the boot space, with split fold rear seats then there's a surprising amount of room for DIY missions.

On the road is where this car really surprises
Our vehicle had the 1.0T petrol engine and there was plenty of power for overtaking and the car was surprisingly refined. Kia also offers the Rio with a 1.2 83hp engine, this is an engine we tried last year and it performed absolutely fine around town and in urban conditions. Granted it's not rapid but it can keep up with motorway traffic and averaged over 41mpg in a mixture of driving. So much so that we ordered a batch for fleet as, in our opinion, it ticked the boxes for what an Instructor requires. Our test car had the 16inch alloys which looked great, however most Instructors would be happy with the slightly smaller 15inch on the '2' spec as they give a slightly comfier ride. The Rio, in both '2' and '3' spec, come with a full 5 star safety rating with AEB, forward collision avoidance assistance, lane departure warning and lane keeping assistance amongst a full complement of airbags.
Speaking to Instructor's over the years, one of their main priorities is downtime and reliability of their car. They don't want to be worrying about breakdowns and, should the car be off the road, then helpfulness and speediness of a Dealer is paramount. Kia offers the industry leading 7 year/100k warranty on all their cars and, in our past experiences, have rarely had to use this. On a personal level, we had a Ceed in the family which we kept for the full 7 years and apart from routine servicing and normal replacement items the only issue experienced was a faulty condenser which Kia replaced straight away under warranty at 5 years old. On the Rio 1.2 these engines are pretty bulletproof as there's not even a turbo to go wrong!
Key Features of the Rio '2' our preferred model include:
Cruise Control
Electric Rear Windows
Centre Console Storage Box and Armrest
Rear USB port
8" Touchscreen display with Apple CarPlay and Android Auto
4.2" Colour Cluster Display on dashboard
Rear reversing camera and sensors
If you want to experience the Kia Rio for yourself get in touch with our expert team today.