Ford Focus Titanium X Ecoboost
Read time: 5 minutes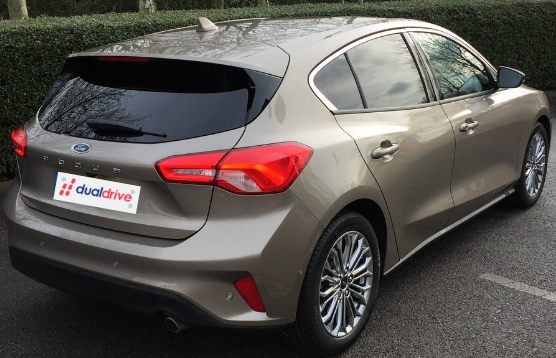 In a bid to cheer up a dreary January weekday, we decided to review the all-singing, all-dancing Ford Focus Titanium X Ecoboost model.
Car Buyer mentioned the features that come as standard in this Ford Focus…
The luxury features fitted as standard with Titanium X spec certainly make the car a match for the Audi A3 or BMW 1 Series.
As an aside, for most people the Zetec Nav or ST-Line would certainly appeal and, as an added bonus, leave a few thousand pounds in the bank account.
For those that don't know, Titanium X is the luxury model of the Focus range; if you wanted something a bit more sporty looking then again, the Zetec or ST-Line would be the option to choose.
That said, this is an attractive car featuring Ford's new cutting edge style. They're that confident in the marque that the Focus badge is now displayed prominently under the tailgate; in essence it's sharp and modern.
Our first impressions of the Diffused Silver paint job were pretty striking – in certain light it's almost gold and certainly stands out from the usual grey and black.
As petrol engines are rising in popularity, we opted for the latest Ecoboost 1.5 engine with 150bhp, however it is also available with 182bhp and the Ecoboost 1.0 litre is available in 100, 125 and 140bhp. And just so they don't feel left out, for diesel aficionados there is a newly uprated 1.5 either 95 or 120bhp and a larger 2.0 diesel.
So just how easy was the new Focus to live with on a day to day basis? And crucially, how efficient was this latest petrol engine – let's find out.
Size wise the interior is huge. There's more than enough room for a 6' driver to get comfortable and still carry adults in the rear without them being squashed. Interior storage space is plentiful too with room for bottles of water, change and mobile phones. The same applies to the boot where there's plenty of space for luggage and if you're so inclined, trips to the dump.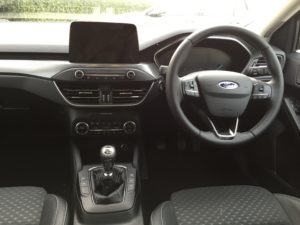 I also appreciated the dashboard which seemed to be built around the driver but without feeling hemmed in. The touchscreen Nav is easy to use and provided clear and concise directions and the heated seats and steering wheel were extremely welcome in the current cold snap.
The Quickclear heated windscreen was also a godsend in this weather and as we all know it's the little things which are the deciding factor when choosing a car.
The Focus features an electronic handbrake and Hill Start Assist which should inspire confidence in pupils who have only experienced a standard handbrake. This frees up extra room in the centre console.
Visibility was great out of the front, not fantastic at the rear with three quarter vision but you soon get used to the vehicle dimensions plus the rear parking camera and sensors should prevent any mishaps!
This model had electric seats however all Focus' have a decent range of fore/aft adjustments which alongside seat height adjustments and steering reach/rake mean the shortest to the tallest person can find a comfortable driving position.
Our vehicle had a 6 speed manual gearbox which was easy to use and the car was happy to drive at 30mph in 4th gear without struggling or the gearshift indicator telling you to shift up.
Over our test period which covered a lot of urban driving and a couple of fast A road trips over the Woodhead Pass we averaged 42.3mpg. This was better than I'd anticipated and I can only think that the smaller 1.0 Ecoboost engine would average closer to 45mpg.  The Stop-Start functionality on this engine was seamless and if required can be deactivated with ease.
Used for the right journeys you can't beat a diesel for torque, flexibility and economy but if you do less than 20k a year and plenty of short journeys then you shouldn't discount the latest range of petrol engines, the technology is moving at a continual pace. Plus you won't have a DPF clog up or need to give the car a blast down the motorway to clear it.