Nissan Leaf 40kw Tekna – reviewed for driving instructors
Read time: 5 minutes
The Nissan Leaf was the first mass market electric vehicle and the new version has moved things on significantly. We were keen to try living with an electric vehicle so were delighted when the Tekna version arrived loaded with kit.
Having the bigger battery pack it has more performance and power than before, the claimed real world range is 168 miles based on the latest Worldwide Harmonised Light Vehicle Tests. That's not groundbreaking compared to rivals, however, there is also an e+ Tekna model with a claimed 239 mile range and 217bhp, an increase the 150bhp model we tested.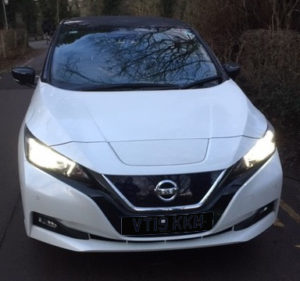 A driving instructor car?
Most driving instructors will have had limited or no experience of living and teaching with an electric car, although we expect that due to emission restrictions in city centres electric cars will become a more standard driving instructor car lease. Naturally the first thing we wanted to know is how easy is it to charge up? Where do we do it? How long does it take? The car comes with a 3 pin charging cable which can be plugged into a domestic socket, however, charging from a wallbox (which if you purchased an electric vehicle you'd most likely have fitted) would reduce the charging time by almost 50% to 13 hours. The most effective way, however, would be to drive to a rapid charging port which gives a claimed 20% to 80% charge in approximately 60 minutes. So that's overnight and when you have an admin break in the day covered.
However we wanted to see what this was like in practice so having used the car for a few days we used the in-car info system which directs you to the nearest charging station. We chose to go to the notoriously busy Trafford Centre and unsurprisingly found all the charging bays to be full. Fortunately, we still had plenty of charge left so we parked up, however, I was intrigued to see if any spaces had freed up and found one 15 minutes later.
Plugging the charger in was simple and also satisfying to know that the car was charging up whilst we got on with other things, in our case shopping, but if there are calls to return or paperwork to fill out then the car becomes your mobile office for an hour. Become a member of the Chargemaster Polar network and you'll have access to over 7,000 public charging points; if you cover a lot of motorway miles then register with Ecotricity and pay for each rapid charge with your smartphone app at motorway service stations.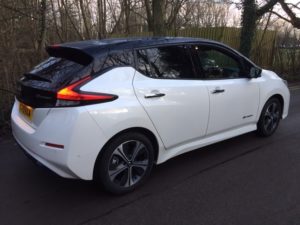 Our review has been written this month so relates to winter usage with the extra strain on the battery of lights, aircon/demisters and heated seats that you'd expect. We soon learned to put them on for the minimal amount of time and then switch them off to conserve energy, although you can set a timer to pre-warm or cool the vehicle remotely – clever stuff! Summer usage would of course mean a greater battery capacity range as there is less requirement for ancillary features.
Smooth operator
Getting in the Nissan Leaf and setting off is, at first, an eerie experience as it's virtually silent. You soon get used to the instant power/torque from the engine and it's wonderfully smooth. But what we really loved about this car is it almost makes you a better driver as you're keen to conserve energy and drive in the most economical way. I don't mean you drive at 15mph but you learn to come off the gas sooner and not accelerate as quickly as you maybe would've done in a conventional engine. The car did have an e-pedal (which apparently Nissan claim is a world first) which allows you to drive without really having to touch the brakes as the regenerative braking* does this, however, we didn't really use this as it also disables the creep you get from a conventional automatic which learners often find useful for parking and maneuvering.
*For those of you who aren't too familiar with the term 'regenerative braking', it's an energy recovery mechanism that slows the car down by converting its kinetic energy into a form that can be either used immediately or stored until needed.
An interior that ticks ADI boxes?
The interior of the Leaf was as good as any modern day Nissan, the dashboard and controls were all user friendly and hardly any different from a non-electric car. Plenty of room and decent visibility also added to the driving enjoyment. The Nav was user friendly but the touchscreen is a little small compared to some rivals, minor stuff, however. Overall this would be an ideal tuition car.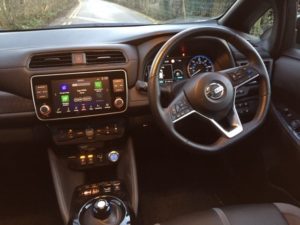 Does the Nissan Leaf Tekna appeal to driving instructors?
My opinion is 100% yes. If a lot of your journeys are in urban areas with stop/start driving then this is ideal. Even doing some longer journeys poses no issues and living with the car made me plan my day so that I could charge it up whilst having a sandwich or answering emails.
For any instructor teaching in a conventional automatic then the transition would be pretty seamless. Yes, of course, the regenerative braking takes a little getting used to but I don't think pupils would be put off by this or an electric car, in fact some would say that pupils will increasingly demand it. Evidently this is the way the future is shaping out and at the 2019 instructor shows we attended we noticed an increased awareness of electric vehicles and one even had a busy mini roadshow of electric vehicles outside. Ultimately the facts don't lie, registrations of Battery Electric Vehicles (BEV) increased by 144% in 2019 compared to the previous year so it looks like the future is electric whichever way you cut it.
If you're interested in finding out about an electric driving instructor lease car or starting out with a hybrid, get in touch with one of our team on 0161 822 8355 or email [email protected].