Dualdrive Car Review – Toyota Yaris Cross Hybrid Excel
Read time: 2 minutes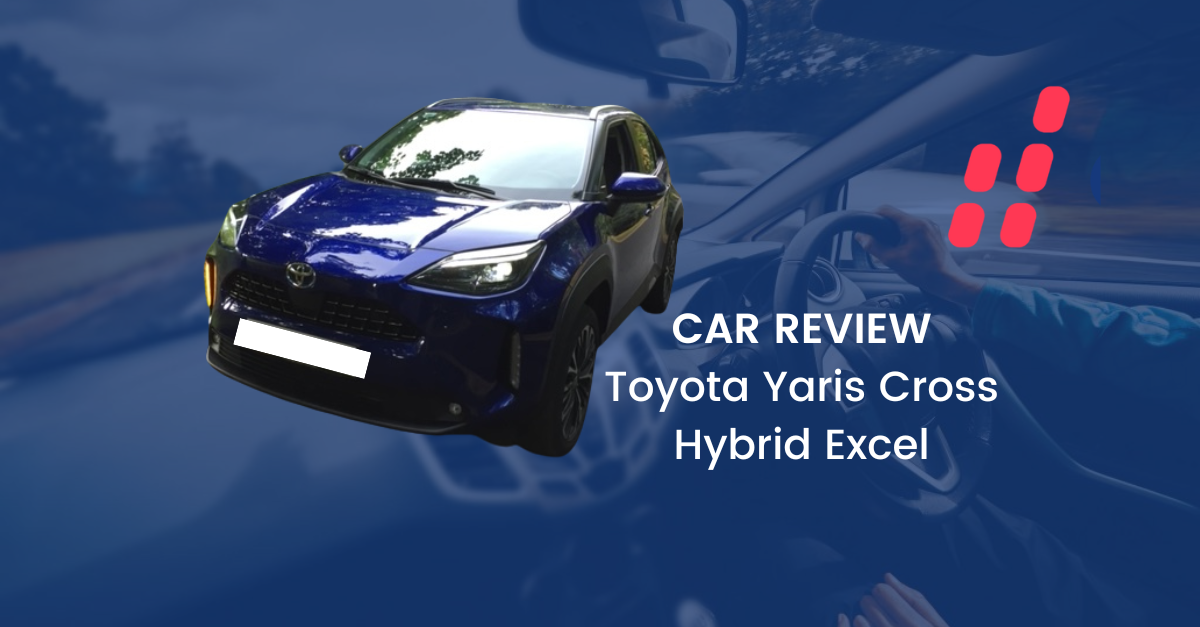 Toyota Yaris – something a little different for our review this month. Yes, it's the jacked up Yaris SUV called the Yaris Cross. Just as we were test driving the car then the latest edition of Auto Express dropped through the letterbox. Only recently launched and already 'Commended' in the small SUV of the year category:
'Toyota is on a roll with its small cars. The Yaris Cross shares its platform and hybrid tech with the Yaris supermini, but it's wrapped up in a smart SUV package that adds a little more practicality, but not too much to the price. This compact urban SUV is the right vehicle at the right time for the Japanese brand.'
So what are our thoughts on the Yaris Cross?
Firstly this is a seriously good looking example of the trillions of SUV's that we see on the roads. Toyota's design team have designed a car that is still a sensible size and width for nipping about. Plus, the elevated driving position and decent all round visibility really enhance the driving experience.
The interior is light years ahead of Toyota's of old. It's simplistic and doesn't feel 'plasticy' with plenty of soft touch materials used. It's certainly spacious enough as a worktool for an Instructor. There's plenty of room in the footwell and decent range of adjustment on the seats. The boot is spacious and certainly on-par with class rivals. It has a flat loading lip and split folding seats to carry both luggage and passengers. Room in the back is fine for occasional journeys. Don't forget this is based on a supermini so never going to have limousine like head and legroom. However, from our experience, passengers won't be complaining. A bonus for an Instructor who may want to use this as a family car.

What's the technology like?
The infotainment systems available with the Yaris Cross are either an 8 inch touchscreen with in-built navigation, DAB, Apple CarPlay and Android Auto on the basic models whereas our Excel specced model came with a larger 9 inch touchscreen as well as wireless connection for smartphone mirroring programs. On all versions it's a decent bit of kit and functional with easy to follow menu's and clear graphics.
OK it's not the height of technology and there's a bit of lag when you give the screen a prod but you can just link your smartphone up if you'd like. A huge positive however for the physical controls for the heating/ventilation, having to navigate systems to control your heating/ventilation is becoming more commonplace but how is this easier for the driver?
What's the Yaris Cross like to drive?
Under the bonnet is Toyota's famous (and legendary) 1.5 three cylinder petrol. This works with an electric motor to improve performance and efficiency. Total power output is 116bhp and this is mated to the CVT gearbox. It appears Toyota have enhanced the CVT operation as this latest Yaris is pleasantly 'darty' around town and soon builds up speed when required. Only if you're accelerating hard or climbing a steep hill does the engine noise make itself apparent and hold the revs near the red line. With fuel prices where they're at, it's more than likely we're already trying to eek out maximum fuel efficiency and drive gently!
Our test model was the Excel which came with 17" alloys, yes they looked the part but also didn't spoil the ride like larger alloys often do. Our preferred model of Yaris, the Icon, comes with 16" alloys and still grips the road well. We wouldn't necessarily say the Yaris Cross is a true drivers car but the steering is light and it feels precise and tidy to drive with decent body control. You can even get an AWD version which splits the electric motor from the front of the car to the back axle, handy for rural life as adds extra reassurance in bad weather conditions.
All in all, we're pleasantly surprised with the Yaris Cross and look forward to supplying these to our Instructors
If you want to experience the Yaris Cross Hybrid Excel for yourself get in touch with our expert team today.