Dualdrive Car Review – SEAT Leon 1.5TSI Evo 130ps Dynamic SE
Read time: 5 minutes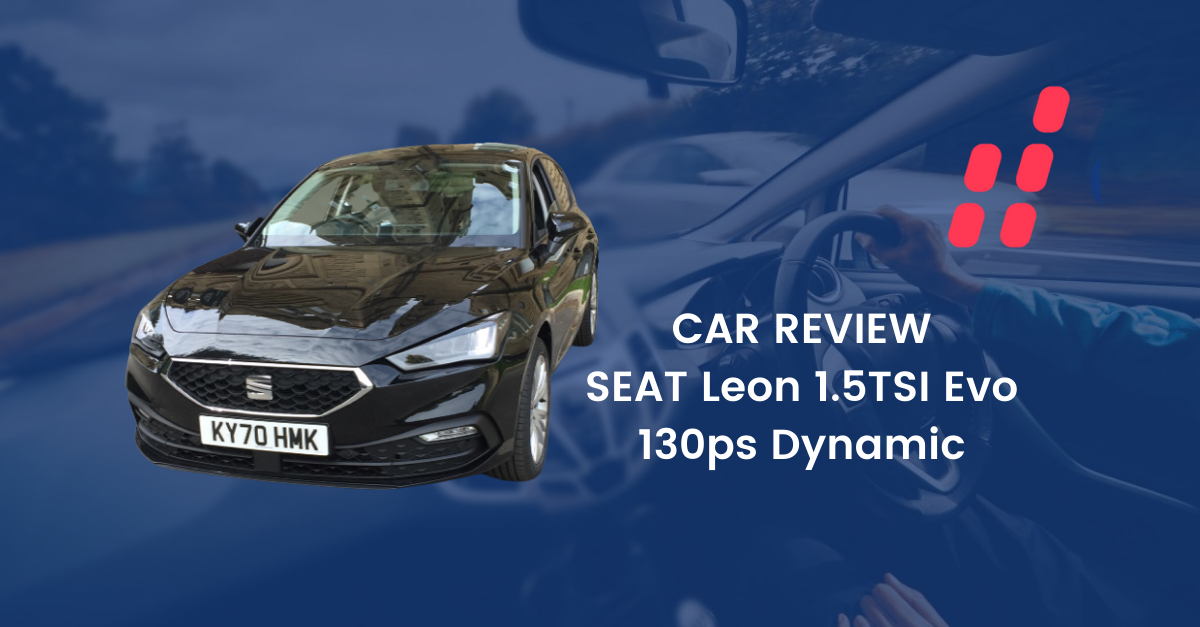 Our latest vehicle to test drive for our Instructor community is the recently launched Seat Leon. Given the large swing towards petrol, we were keen to try the 1.5 litre in 130ps guise. This engine is also available in 150ps but that maybe a little too powerful for some!
First impressions are 'what a sleek restyle'. We love the full width rear light bar on the Leon and the sharper angles really make it stand out. Given that it's also What Car? Family Car of the Year 2021, we have high expectations, here's our report!
Why the safe colour SEAT Leon?
Previous models have been available in bright hues such as the Lima Green or Azure Blue. With the SEAT Leon being such a great looking car maybe some people would want it to stand out more? Still, our Midnight Black definitely looked smart. Plus, the 17" wheels are a great balance between looking the part but also ensuring ride quality and comfort take priority. As an instructor, you don't want to sit in a car with large alloys and low profile tyres and expect a comfy ride for the 7-8+ hours spent in the car each day!
Step inside and the interior is bright and spacious. The SEAT Leon definitely sets the bar even higher with the quality of the dashboard and fixtures/fittings. There is a minimalist feel to everything and a smart 10" Navigation/touch display which also controls various other functions such as heating and ventilation. A lot of Manufacturer's have taken this approach and done away with physical switches and buttons. What do you think? Opinions are divided as to whether this is progress or not but for us it worked brilliantly. The touchscreen was intuitive and didn't go slowly or freeze.
For technology fans the highlights include:
Full Link smartphone integration (Mirror Link, Wireless Apple CarPlay, Wired Google Android Auto)
Navigation system with 10.0″ smart touch display
Four USB Type C ports
Bluetooth® audio streaming with handsfree system
Natural voice control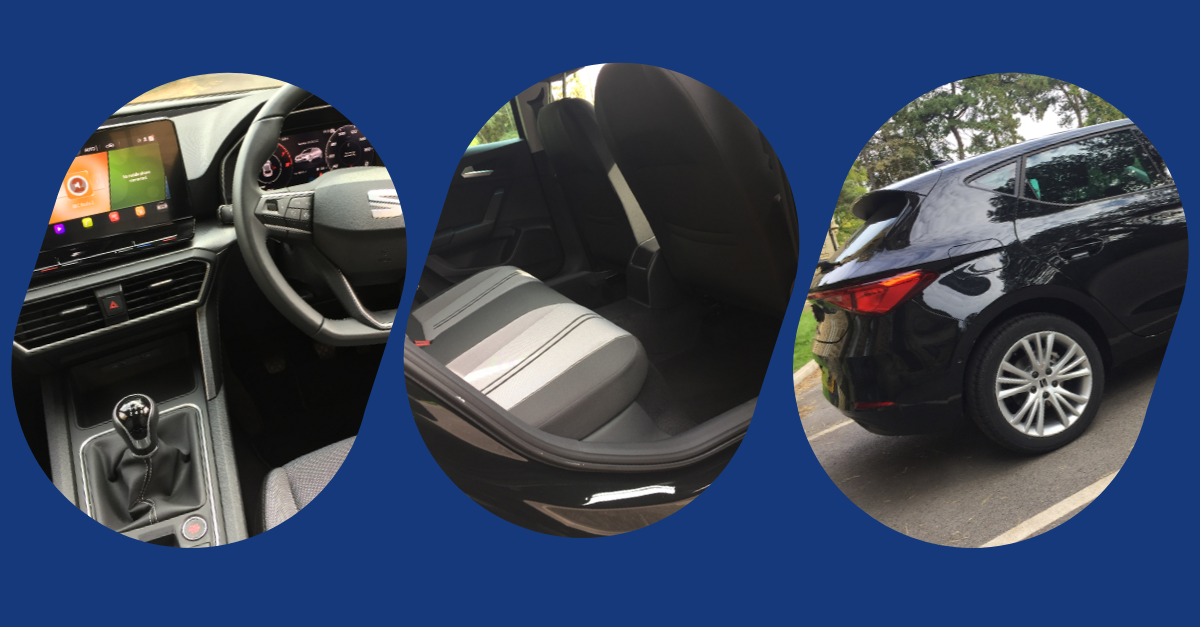 Living with the SEAT Leon
What we are keen to try is living with the car on a day to day basis as both an Instructor and for family usage.
There's plenty of head and legroom upfront and the contoured dashboard means anybody in the front passenger seat has plenty of space. Even for someone 6ft+. It's easy to get comfy and rear legroom is not completely compromised with the seat pushed back. The car feels larger than it actually is, admittedly the sloping lines mean you can't see the front of the bonnet easily. But, both front and rear parking sensors provide reassurance. This model even comes with Park assist but we didn't choose to put that to the test!
Visibility upfront is excellent with large mirrors and plenty of glass. The all important rear quarter visibility is not as compromised as may appear when you look at the exterior. As well as legroom and headroom for passengers being up there with the best in this class size, the boot space was ample for weekly shopping, kids bikes and all the other paraphernalia people accumulate too. It's good to see decent sized door pockets and cup holders, nothing worse than nowhere to store everyday essentials when using the car as your 'mobile office.'
Safety Features
Much as the aesthetics of the car are important it's also reassuring to know that this model of SEAT Leon comes with the following safety aids as standard (and has also been awarded the NCAP 5 Star safety rating)
Brake control system (ESC and brake booster)
Tiredness recognition system "Driver alert system"
Lane Keeping System
Front assist: Forward collision warning braking reaction to vehicles, pedestrians and cyclists
Park assist (including front and rear parking sensors)
The steering on the car is light and provides plenty of feedback. We are also delighted to report that it was almost impossible to stall the car, the engine being extremely responsive and the stop/start functionality working almost seamlessly.
In a way it almost feels too powerful for a learner car, however there is a smaller 1.0 110ps engine available should you prefer. We averaged 44mpg on our test routes which did combine plenty of town driving and crawling down the A34 along with a trip over to beautiful Whitby. All in all, we absolutely loved this car and sure that our Instructor's would too. If you'd prefer, for example, the sportier FR version or a different engine, we'd be delighted to assist.
If you want to experience the SEAT Leon for yourself get in touch with our expert team today.