YSP in a Citroën C3
Read time: 2 minutes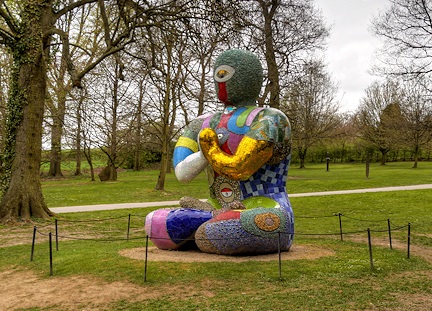 As promised, we're sharing another review of the Citroën C3 Aircross Flair BlueHDi, this time it was driven by Dan W on a day out to Yorkshire Sculpture Park (conveniently known as YSP)…
Last week I had the pleasure of borrowing a Citroën C3 Aircross for the weekend and what a lovely weekend it was too. We (by that I mean my wife) decided to take a day out with the two kids to YSP, an 80 mile round trip taking in the lovely scenery of the Woodhead Pass travelling from Manchester to Barnsley and Wakefield.
Lovely sunshine and acres of beautiful countryside to walk around while stopping to take a look at installations and some massive sculptures, a great packed lunch, a swerve of the gift shop and a nice coffee and ice cream outside were some of the highlights.
Before too long though the afternoon turned into continuous negotiations as to when we would be leaving – my kids can only handle a limited amount of culture and countryside.
Eventually we succumbed and walked the thousands of miles back to the car (the kids' interpretation) and completed the journey back over the hills.
So how did the Aircross fare?
It was very spacious and comfortable considering the small outside dimensions with a lot of the space coming from the upright driving and seating positions. There were very few moans about legroom (there's never no moaning at all!) from the 12-year-old who's taller than his mum.

The uncluttered, unfussy, unpretentious interior was a joy to sit in, with really comfy seats. It was also easy to drive and manoeuvre thanks to big windows and relatively small pillars so no massive blind spots.
Overall, a nice looking, tidy, spacious small car and a fantastic picnic; thanks Sarah for thinking of it, you don't have to thank me for driving, it was fun!