Toyota Corolla Hybrid review
Read time: 5 minutes
This month we've been driving and evaluating Toyota's latest addition to their range, the new Corolla hybrid. Many enthusiasts will remember the previous Corolla which ceased production in 2006 and was replaced by the Auris. So was it worth dusting off the name for a new outing?
Pheonix from the ashes…
Personally we think it's great that Toyota are playing on a key strength as the Corolla previously lasted 12 generations with global sales in excess of 50 million units worldwide. It appears that not only are manufacturers wanting to get back to their heritage in design (think new Peugeot e-Legend concept and the eagerly awaited VW ID Buzz) but bringing back successful past historic names is also a crowd pleaser – the new Ford Puma comes to mind.
Anyway, this is by far and away the best looking Corolla ever produced, we'd almost go as far to say it's certainly one of the best designs Toyota has come up with. My colleague Chris may beg to differ as he drives a GT86 and is a big fan!
So will our instructor community be put off by the lack of a diesel on this car, with only a 1.2 petrol turbo and a 1.8 and 2.0 hybrid being manufactured? Plus the manual version is only available in the 1.2 petrol; both hybrid models are automatic.
It's fair to say that the interior isn't a disappointment after the sharp lines of the exterior, there's a modern dash and the dials are pretty futuristic. We're big fans of the digital speedo and love the way the car tells you when it's self charging in EV mode.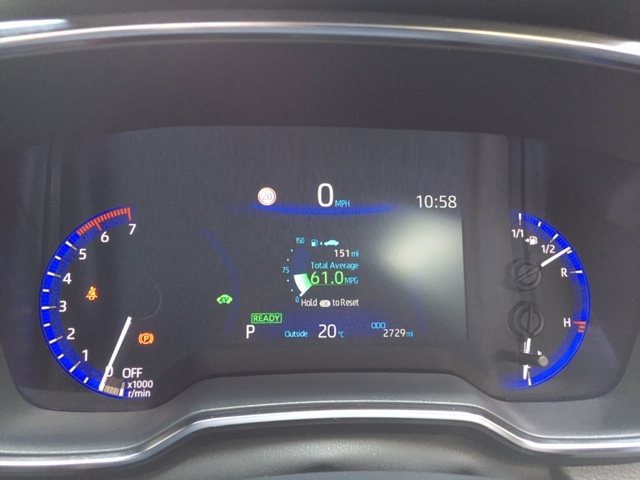 Space inside the vehicle is on par with the Focus and i30 and it doesn't feel hemmed in like some cars do. Having spent a fair amount of time in the front passenger seat it provided plenty of adjustment and never felt as though lumbar support was missing or there wasn't enough legroom in the footwell.
The digital speedo can be read from the passenger seat and all round visibility is pretty decent, albeit rear three quarter vision is a little limited but that's due to the design of most cars nowadays.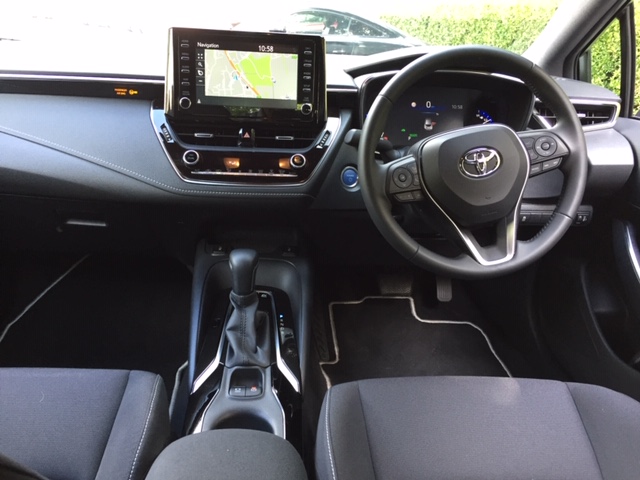 Over our time with the car we averaged 61mpg and this was mostly urban stop/start driving. Don't forget this car doesn't need plugging in or charging, you just fill the tank with unleaded and hopefully watch the needle go down very slowly.
Hybrids like this are designed for short journeys, if you do a fair number of miles on the motorway then the expectation would be the car would run via the combustion engine which would affect fuel economy. However, bear in mind Toyota has an enviable reputation for reliability and has been one of the pioneers of hybrid technology with the launch of the original Prius in the 90s. For further reassurance, there's also a 5 year or 100k warranty and the option of a top up on the hybrid battery warranty offering extended cover for up to the car's 15th anniversary.
But enough about all that, let's get down to what it's like to drive…turn the key and there's not a sound, put the gear lever in drive and off you go. The engine is pretty seamless when it kicks in and we often managed to keep the car in silent mode for regular periods, which encouraged us to drive more economically!
This car won't be for everyone but as far as automatic tuition vehicles go this is one of the best we've ever driven. There's an ever increasing amount of awareness and people wanting to embrace green vehicles plus with more congestion zones and the huge growth in alternative fuel vehicles we expect the take up of automatic only licences to become the norm.
So for those considering a hybrid, the general consensus is that you can't go far wrong with the Corolla!